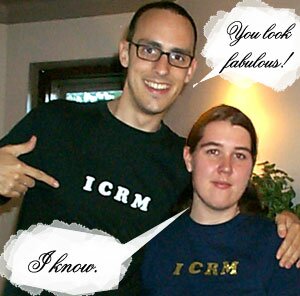 The management of the Illustrious Circle Road Manor, Optimuscrime (Co-Founder) and C-Mac (President and Chief Hanson Fan), celebrate the completion of C-Mac's master's degree with custom-created ICRM t-shirts. What better way to mark the end of an MA and beginning of a Ph.D programme than with blinged-out gold letters?
Sorry, suckas, but the ICRM haute-couture line is limited to ICRM residents and specially selected homeslices. However, we're making our very next fashion project available for purchase by the unwashed masses. Celebrate your love for the Skeeze with your very own Mrs. Federline wifebeater.
Related:
Stereogum: Mrs. Federline
Broken Language: "I want him on the cover of Details, rough-traded-out like Nick Lachey..."