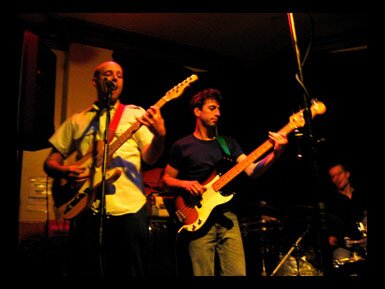 Brian Eno once said of the Velvet Underground that very few people bought their records, but that everyone who did started a band. Unfortunately, there is an imperfect union between white-hot talent and commercial success.
Last night was proof positive. The Wooden Stars' 1997 album Mardi Gras enjoys a comfortable spot among our top ten albums ever produced, and they have influenced legions of hot-shit Canadian artists (including blogiverse darlings the Arcade Fire.) But when their reunion tour stopped at Kingston's Grad Club, maybe 30 people turned out, tops.
Okay, sure: It's reading week for Queen's students. And Kid Koala was rocking the decks at the Elixir the same night. But still, thirty people?
The Wooden Stars took it all in stride, pitching their setlist and steering their set by way of inter-song band meetings. While the show logistics were ad-hoc and sloppy, their set was absurdly tight. Their sound is influenced by alt-folk, but their stop-start dynamics and careening polyrhythms take their cue from the math-rock bands that defined the Ottawa scene (see: Okara, Shotmaker) in the mid-nineties.
Their show (more ably reviewed here) included a mix of older material and some (gasp!) new tracks. And, to our great delight, a cover of 'Cut Your Hair' by Pavement. There's nothing any of you can do to make up for the fact that you slept on this show (shame! shame!), but you can start your penance by adding their utterly perfect 'Mardi Gras' LP to your collection. For under nine bucks Canadian, you can get a copy (in MP3 format) on Zunior, a new music service started by Dave Ullrich of the Inbreds.
In unrelated news: The Kingston Optimuscrime syndicate has now moved into our new digs on Bagot. But the house needs a name! After living at the Illustrious Circle Road Manor and Lime Green Palace, using a standard mailing address would be six kinds of dull. So, a contest! The best suggestion made in the comments or sent by will win a sexy Optimuscrime t-shirt.